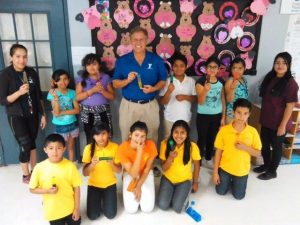 About the Foundation
Coachella Valley housing Coalition is a nonprofit affordable housing development organization founded in 1982 with the purpose of improving the living conditions of low income individuals and families by constructing and operating affordable housing infused with resident services programs and other opportunities that enrich build and grow their lives. CVHC has constructed nearly 4,000 homes and apartments for low- income households in Riverside County and Imperial county. In addition, CVHC has developed a variety of residents services for its tenants and the surrounding community.
After School Kids Clubs
In partnership with and funded by the Coachella Valley Housing Coalition, the Family YMCA of the Desert manages 4 after school programs located at low income housing communities.
The YMCA provides a safe drop in program, for children K-12 grade, activities include:
Homework Help
Healthy snacks
Group activities
Arts & crafts
Hours of Operation:
Monday through Friday from 3:00- 6:00 p.m. and in the summer from 1:00 – 4:00 p.m.
If you would like more information you may contact Catherine Alvarez at 760-902-6564
or call any of the 4 locations nearest you for more information
After School Program Locations
Las Casas I
51-600 Tyler Street
Coachella, CA 92236
Phone: 760-398-5980
Supervisor: Gabriela Ramirez
---
Paseo De Los Heroes II
63-950 Lincoln Avenue
Mecca, CA 92254
Phone: 760-396-5800
760-396-5529
Supervisor: Alexandria Garcia
---
Rosa Gardens
555 Rosa Parks Road
Palm Springs, CA 92262
Phone: 760-325-3282
Supervisor: Maria Merino
---
Brisas De Paz
65-921 Flora Avenue
Desert Hot Springs, CA 92240
Phone: 760-288-0130
Supervisor: Zulema Gonzalez