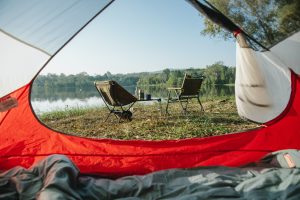 Family Campers spend the weekend enjoying the activities of archery, fishing hiking in addition to arts & crafts, nightly events, campfires and lots of family fun for everyone. Each family will be housed in private cabins with a private bathroom.
Location: Camp Oakes Big Bear
Days: Friday-Sunday
Ages: All
Cost: $150 per person, Under 5 Free
Dates:April 23-25
 Call Gail at the Y to register.
---
General Information
Arrival and Check-In:
Plan to arrive any time after 5:00 on Friday. Check In will be done at Flagpole.
Camp Oakes Address is 
47400 Monte Vista Dr. 
Big Bear City, CA 92314
We recommend taking the route via HWY 38 through Mentone. When you arrive, drive to the check in area, will be guided where to unload by one of our staff. 
Check out time on Sundays is 11:00am, 
Things to do:
Hiking- Trail maps will be provided. Ping Pong Cornhole
Gaga (dodgeball game) Horseshoes
Volleyball Foosball
Balls are provided, or you can bring your own.
Program Activities 
Archery, BBs, Mine Chute, Crafts, which will all be scheduled, to allow cleaning time in between sessions and allow only one household per program. 
Observatory- Get a view and tour of the night sky. Sessions will be scheduled starting at 8:30pm for 10 min show on Saturday Night.  Time slots will be available during check in. 
Food
:  
Meals will be provided during your stay. Pizza for purchase will be available for pick up on Friday's. Orders need to be done in advance. Check your packet for the order form, please turn it in the Tuesday before your arrival. Orders are to be sent to  
Mealtime Pick Ups will be as followed.
Breakfast- 8:00-9:00am
Lunch 12:15-1:15pm
Dinner 5:00-6:00pm
All meals will be picked up from the dining hall area. One person per household. They will pick up a crate with all meals for your household,  utensils and trash bags to take and eat outside with our picnic tables. No indoor dining.
Emergencies:
 If an accident occurs, please inform Fredy Diaz at 909-521-5709 or inform the nearest staff you can find. 
Bear Valley Community Hospital:
Emergency Room, 
41870 Garstin Dr, Big Bear Lake, CA 92315
Phone: (909) 866-6501
We have minor first aid supplies available if needed.
Wildfire:
If a wildfire breaks out nearby, please be prepared to leave quickly. Any camp emergency is signaled by an alarm that will alert all. If signaled, please send one member of your family to the main parking lot for instructions.
Natural Hazards:
Camp is situated at 7,200 feet elevation. Dehydration is common, be sure to drink lots of water. Tap water from your Dorms is drinkable. 
There is wildlife. They are more afraid of you than you are afraid of them. Some common animals in the winter are coyotes, mountain lions, bears. We almost never see them, but we know they're out there. Stay together in groups, do not walk alone at night. If confronted by a "big kitty", do not run away. Make yourself look larger, get together in a group, yell and holler.
There are snakes and rattlesnakes, but not common.  Stay on trails and watch where you're walking.
Weather:
Winter is always a fascinating time here in the mountains. Weather can range from the 50s/70s in the daytime, to lows of 20s-30s at night. Be prepared for brutally cold with wind, rain, sleet or snow during the wintertime.
Check the forecast to help with packing.
Big Bear:
Town can become quite busy, especially if there is snowfall. We recommend staying away from town on weekends as of 10:00am each day to avoid the crowds. If you want to enjoy town, be prepared for traffic.
FREQUENTLY ASKED QUESTIONS

 
What are your accommodations like?
At YMCA Camp Oakes, all of our cabins have  6 bunk beds with twin sized mattresses, electricity, heating, and bathrooms. We have 10 cabins, known as Bixby Village. Cabins are ADA accessible. 
Are accommodations shared with other families? Can I share a cabin with specific friends or another family?
To allow for social distancing and ensure the health and well-being of all families coming to camp cabins will now be private and only occupied by your family during a weekend. All family members that you register with will be placed in the same cabin.
What should I pack?
We recommend that you plan to dress in layers because temperatures can vary greatly between day and night, it can snow or rain unexpectedly at camp, so layers is always recommended. You will also need to bring warm bedding (sleeping bags, warm blankets, and/or), reusable water bottles comfortable closed-toed shoes, a flashlight, and a positive attitude. Please leave electronics, valuables, and any drugs or alcohol at home. We also recommend labeling your belongings, as many families bring similar looking items.
Where do I park when I arrive at YMCA Camp Oakes?
Upon arriving to camp please park in our main lot and observe a site wide 5 mph speed limit. Parking is allowed only in designated spots. Our parking lot is big enough to allow for social distancing room between cars. Please keep this in mind when finding a pot in the lot. During check in hours staff will be on hand to guide you to a parking spot. Please remain in your car and a staff member will come and check you in. Cars must remain in the main parking lot for the weekend. Please plan to move luggage between the parking lot and the cabin. We have a spot we can guide you to unload. We encourage you to pack only what you can carry. Our parking lot is not next to cabins and you may not drive to the cabins.
What time is check in and check out?
The first check in will begin at 5:00pm. In order for our maintenance staff to clean the cabins for our next group's arrival, please plan to have all of your belongings out of your cabin by 10 am on the last day of camp. We cannot accommodate early check in or late check out. On the last day of camp during family camp weekends activities will run until 11 am unless otherwise specified in your welcome email or at check in.
Do you accommodate special dietary needs?
We offer nutritious, family-friendly meals. Please be sure to visit our dining area during mealtimes, as we do not serve food at other times. We can accommodate vegetarian/vegan, lactose free and gluten-free diets; however, we do not have the capacity to prepare special individual meals or take meal requests. If you or your family has any special dietary needs or allergies, please let us know when you register or inform your group leader. Our meals are peanut-free, but may contain wheat, soy, egg, dairy or other allergens.
Will my cellphone or tablet work at camp? Is there wifi?
There is minimal cell phone service in camp. There are some carriers that have some signal in portions of the parking lot but generally cell phone service is limited at camp. Wi-Fi is available near the dining hall, and check in area. Please ask a staff member for assistance. To protect your valuables, we do not recommend bringing expensive electronics, and we are not responsible for lost or stolen items. We do recommend taking the opportunity to unplug, disconnect and enjoy the outdoors.
Are medical services available at camp?
Our camp staff members are certified in First Aid and CPR and can assist with minor medical needs. Several medical centers also are within driving distance of camp, including Bear Valley Hospital and Urgent Care options in Big Bear Lake. During the weekend, our health cottage is not open or staffed. If any emergency occurs, finds the nearest staff. 
What if there is an emergency at camp?
In case of emergency, please be aware of the following procedures:
An alarm will announce the emergency.

When you hear the alert, everyone should go directly to the flagpole by the check in area

We will direct you in the next steps.
If you have an emergency, please contact a staff member immediately.
Does camp have quiet hours?
The Lake Williams community has mandated quiet hours from 10 pm to 7 am seven days a week. Observing their guidelines, things like amplified music, drumming, and loud talking or singing are not permitted during these hours.
Should I bring money to YMCA Camp Oakes?
Money is not required for any activities during camp however, the Camp Store may be open during your stay. The Camp Store excepts cash, check or major credit cards. The Camp Store will be open during your stay from 9:00am- 3pm On Saturday and 8:00am-10am on Sundays.
What are your YMCA Camp Oakes guidelines?
Smoking (cigarettes only) is only permitted in designated areas and never in cabins.

Please do not move furniture from cabins to any other building.

Campfires are not allowed for the time being.

Pets, firearms and fireworks are not permitted at camp.

For sanitary reasons, cooking is not permitted in the cabins.

Alcohol and drugs (including vaping) are prohibited at all YMCA facilities.
COVID-19 INFORMATION
WHAT SHOULD MY FAMILY DO BEFORE COMING TO CAMP?
We expect families to complete the following health checks before arriving to camp; Self-monitor your health. Every family member should have their temperature checked before leaving for camp. If a family member has a fever, please do not attend. If you feel symptoms of COVID-19 you are encouraged to stay home.
Limit social connections for 14 days prior to attending camp.
If an individual has been in close contact with a person who has been diagnosed with, tested for, or quarantined as a result of COVID-19 please do not attend the weekend. We will work to reschedule your experience when it is safe for you to attend. 
We highly recommend parents/legal guardians of higher-risk campers to consult with medical providers to assess their risk and determine if attending is appropriate.
WILL THERE BE EXTRA HEALTH AND SAFETY MEASURES IN PLACE DURING CHECK IN?
Yes. Families will be asked to complete the following upon arrival at camp: During check in all staff will be required to wear masks and gloves. All participants 3 and older will be required to wear masks. All cabin residents should use hand sanitizer or wash their hands with soap and water for at least 20 seconds, upon entry into your cabin. 
A health check will be performed with every staff member and family member before entering camp.  Temperatures will be confidentially recorded before entry to the program. Each staff member and parent will be asked the questions below and we will provide a form to complete with signature (that also records temperature) as well as all regular waivers.
The following questions will be asked to each family at check in:
Do you live with anyone or have you had close contact (prolonged or coughed on, for example) with anyone who has been diagnosed with COVID-19 within the last 14 days?

Do you have a fever, cough and/or shortness of breath?
A fever is 100.4 degrees for forehead thermometer, 99 degrees or higher with armpit thermometer or 99.5 with oral thermometer.
Any other signs of communicable illness such as a cold or flu?
If the answer is yes to any of the above questions, we will ask you to please not attend this weekend.
WHAT DAILY PROCEDURES WILL BE IN PLACE TO KEEP FAMILIES SAFE?
All participants over 3 years old are expected to wear masks when within 6 feet of non-family members to protect guests and staff.
Parents and staff are expected to monitor all participants for signs of illness;
Illness - unable to participate in routine activities or need more care than staff can provide.

Fever with behavior changes, difficulty breathing, uncontrolled coughing, unusually tired, persistent crying, etc.

Diarrhea (within 24 hours after)

Vomiting (within 24 hours after)

Open sores, rash, signs of infection, etc.

Runny nose with colored mucous.

New loss of taste or smell
We ask parents/guardians to agree to depart camp if a family member shows any symptoms during program. This statement will require a documented signature during check in. 
The following hand washing protocols will remain in place:
Upon Wake up 

Before meals 

After meals 

Between program activities 

End of Day-along with daily showers 

Sanitizing and cleaning 
All hard surfaces will be cleaned where high traffic occurs. Tables will be wiped down before and after use in the dining area and every program area.
WILL MY FAMILY HAVE TO WEAR MASKS AT CAMP?
Yes.  All campers aged 3 and older will be required to wear face coverings during check in and in all  camp areas unless told otherwise by YMCA Camp Oakes program staff. Participants do not have to wear face coverings in their own cabin or when traveling around camp unless they are in close vicinity to another family household.
HOW WILL MEALS WORK?
Family Camp meals will be served in to-go boxes and crates. Meals are only served during designated mealtimes. Please only refill water bottles in your own designated family cabin. Weather permitting meals will be eaten outside.
Cleaning/Sanitizing During Meals:  
At the conclusion of each meal, the area will be cleared, and the tables and seats will be sanitized.   All plates, cups, silverware, will be disposable and will be thrown away. When picking up your meal crates for your household, all items will be there. A trash bag will also be included to make sure will items are dispose. We ask only 1 or 2 individuals per cabin come to the dining hall to pick up your meal crate for your family. This will limit the amount of people we have inside the dining hall at one time. If assistance is needed, one of our staff can help you. 
After the areas are cleaned, campers will sanitize their hands as they exit the dining areas. Picnic tables are located in the Fun Zone, as well as the back of the dining hall. 
WILL ACTIVITY AND PROGRAM AREAS BE AFFECTED?
For the remainder of 2021 Family Camp programming will look a little different than in past years. Families will have allotted time slots for activities with a maximum of 1 family per activity to allow for social distancing. Each family's allotted session time for specific activities will be highlighted on their program schedule. Where possible all activities will take place outdoors. For this reason Bose Lodges will be mostly closed to campers during Family Camp Weekends.
All campers aged 3 and older will be required to wear face coverings in all activity areas unless told otherwise by YMCA Camp Oakes program staff. Families will be asked to maintain at least 6 feet social distance between themselves and anyone from another household. Program materials will be sanitized between use and shared materials will be minimal. All program areas will be sanitized between uses.
WHAT IF THERE IS A CONFIRMED CASE OF COVID-19 DURING A FAMILY CAMP/CABIN RENTAL WEEKEND?
If we have a confirmed case of COVID-19 in our camp program, we will take the following steps: 
Notify families and staff of a confirmed/potential COVID-19 infection in the facility  

Protect personal identifiers of who had the confirmed case – we will not share names. 

We will share with you if your family has had close interaction with someone who has displayed symptoms. 
 Infection Control Activities 
If the individual infected with COVID-19 spent time was in program and had close contact with others while ill, we will follow the guidance of the public health department. This may mean we will need to close the program for 14 days.
If there is a confirmed case, we will initiate a deep cleaning of the facility.
 WHAT IS THE REFUND POLICY?
If the Y has to cancel a camp program to preserve your safety, or for any other reason, you will get your money back guaranteed. If you choose to cancel your camp reservation, you must cancel 30 days prior to receive a refund of program fees minus the deposit.
WHAT IF SOMEONE IN MY FAMILY GETS SICK WHILE AT CAMP?
We ask that our guests constantly monitor their health before and during the camp program. If you have a fever or show symptoms of COVID-19 you may be asked to leave camp to keep camp staff and guests safe.
If you have any other questions or concerns, please contact your group leader or contact us.