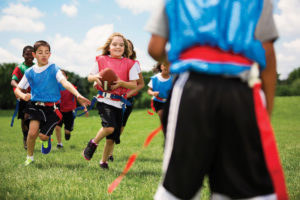 Day Camps
Location: Palm Desert YMCA, 43-930 San Pablo Ave
Times: 7:30am - 5:30pm
Cost: $165 per week (*With some exceptions below. School Break Camps have different costs.)
Note: The completed day camp registration form must be submitted to member services on your child's first day of camp. Registration of a day camp is NOT confirmed until payment has been made for your specified camp dates.

---
July 26-30, 2021
Adventure Camp,Ninja Warrior*
6-12
---
Aug 2-6th, 2021
Adventure Camp, Art, Gamer
6-12
---
Aug 9-13 2021
Adventure Camp, Dodgeball
6-12
---
Aug 17-18 2021
Adventure Camp
6-12
---
November 22-24, 2021
Thanksgiving Camp*
5-12
---
December 20-23 and 27-30, 2021
Winter Camp*
5-12
---
March 18-22, 2022
Spring Break Camp*
5-12
---
Nerf Tag, Ninja Warrior = $175.00
Thanksgiving Camp = $110.00
Winter Camp = $140.00
Spring Break = $170.00
Payment in full is due by 6:00 pm on the Thursday prior to the start of camp to ensure that proper staffing and supplies are in place for camp. A $10 late fee will be applied to all registrations accepted after that deadline.
Annual YMCA Registration Fee is:
$30 per camper or $60 per family
Credit Statement: A PROGRAM CREDIT is issued for any participant cancellation.
A REFUND is given ONLY when the YMCA cancels the activity.
---
About Our Camps
Press Ctrl F (Windows) or Cmd F (Mac) on your keyboard to search for specific day camps.
Adventure Camp
Adventure day camp is for campers who believe variety is the spice of life. Campers will not miss a beat as they are encouraged to participate in variety of experiments, games, and fun activities. This summer camp will open camper's eyes as they keep their minds active.
Art Camp
This summer, the Y will be holding an art day camp for kids 6 to 12 years old. Everyone will get a chance to create some wonderful works of art. Work with different mediums like Charcoal, Water Colors, Pastels, Sculpture and more. Our artists will also put on an art show at the end of the camp to showcase all their works of art.
https://youtu.be/Rqe_HxGHSN8
Dodgeball
All dodgeball, all the time. Learn new and different ways to play your favorite game. We will play all of your favorite dodgeball games and teach you a few new ones. We use light weight non-sting dodgeballs to avoid any worry of injury. Get yourself in shape for throwing, catching and dodging. Better move quick this camp fills up faster than a throw to the back.
Fashion Week
Do you have an eye for the next hot fashion? Well... then this is "wear" you should be! We start with your ideas and end with a fashion show. Explore different materials and styles. Each day, designers will take part in fashion challenges that will put your creativity to the test. On Friday, get ready for a walk down the runway in the new look you've created.
Gamer
This day camp is for anyone who loves video games. You'll battle it out competing in tournaments, learn tips and tricks and more. We'll also take the games from the screen to reality by recreating some of your favorite games in the real world. Day Camps
Girl Power
Girls can do anything they set their minds to, but sometimes they just want to have fun. This week they'll do both. Everything from learning new skills to nails and hair to just being silly with friends. Come join us for this brand new day camp and a week of fun.
Harry Potter
So you've read the books and now you think your ready to learn how to be a wizard? Every wizard needs to go to school. Subjects include: Magic, Potions, Flight, and Spells. Science, fun and magic will be the focus of this school. At the start of the week, all students will create a wand, cape and a magic box to fill with tricks and spells. In addition, you will learn to play the game of Quidditch.
Hot Wheels
Ladies and gentlemen... Start your engines! OK race fans... Spend a week creating race tracks, building cars and fighting for the checkered flag; putting together Hot Wheels race tracks like you've never seen before. We will even build a pinewood derby car and experience fast-paced action on the slot car track. Witness amazing car jumps, spectacular crashes and much more.
https://youtu.be/miU4th4hS2E
Jedi Training
Our program includes all of the basic training a Jedi needs. Children will create their own Jedi character, develop their balance and coordination through fun Jedi training games and, of course, learn to wield a light saber. Students will also learn to pilot a star fighter as well as master Jedi mind tricks. At the end of the week, students will be tested to conclude their training and receive their Jedi certificate! Day Camps
Nerf Tag
If action and fast-paced fun is what you're looking for... you've just found it! This camp will give you the opportunity to play different dart games involving strategy and teamwork. The Y will provide everything you need to participate in this great camp such as dart blasters, vision protection and supervision.
https://youtu.be/dTw-ODWydxc
Ninja Warrior
Time to stop watching and start doing. We know you've said, "I can do that!". Well here's your chance to prove it! We'll set up the course and you master the obstacles. By Friday we'll see who can hit the buzzer. Day Camps
Lego Master Builders
Calling all Master Builders! Using these classic building blocks, design and build a variety of constructions including machines, catapults, pyramids, demolition derby cars, truss and suspension bridges, and buildings. Explore concepts in physics, engineering and architecture. Build curved shapes with rectangular bricks. Learn tricks and tips used to build LEGOLAND, then try your hand!
Pokemon
Welcome new Pokemasters to your first day of summer camp Poke training. Come "Catch 'Em All" in this fun-filled and art-packed camp. Together, we will explore the world of transforming animals and learn about Pokémon in other cultures. We will design game boards and our very own Pokecards while learning how to play the Pokémon Card Game. If you love to paint, create, sing, and dance, this is just the camp for you!
Princess
Tiaras and Tutus, Castles and Crafts, Tea and a Ball is the delight of every little Princess. Activities will inspire creativity, encourage physical activity, and instill a love and appreciation for art and beauty. You will delight in sparkly arts-n-crafts, singing, dancing, and enchanted play each day, themed to your favorite fairytale princesses.The camp concludes with a "Happily Ever After Ball" and coronation ceremony for each of the little princesses held on the last day of camp.

Sports
Sports fans, you will love this camp. Each day we will learn the rules, practice skills and compete in different sports. These will be games you know and some new games. Have fun while learning teamwork, sportsmanship, fundamentals, and more. Games will include Basketball, Soccer, Volleyball, Football and more.
Slime
Get ready for a week of messy fun! We will make very kind of slime you can think of as well as a shaving cream slip n' slide, slimy crafts, gooey projects, squishy games and more. A fun day camp with a messy twist. Wear clothes and shoes that can get stained and dirty.

Want to learn more about camps? Check out our overnight camp info here!